The Bwine F7 Drone with its 4K Camera and Night Version is a fantastic piece of technology that delivers on both the performance and photography front. From its ultra-portable design to its advanced features, this drone is perfect for both beginners and expert drone pilots alike.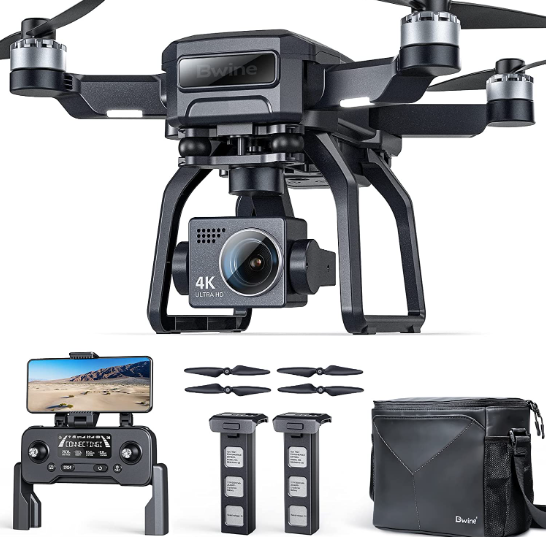 One of the standout features of the Bwine F7 Drone is its 4K camera. With this camera, you can capture ultra-high-definition photos and videos at 3840×2160 resolution. This means that you can zoom in on details and still maintain a crisp, clear image. Whether you're taking aerial shots of landscapes or shooting live events, the 4K camera on the Bwine F7 Drone is sure to impress.
Another impressive feature of this drone is its night version. With its built-in infrared lights, this drone can capture clear, detailed images even in low-light conditions. This makes it ideal for outdoor enthusiasts, journalists, and anyone who needs to capture images in dark or hard-to-reach areas.
When it comes to flying the drone, this drone is incredibly easy to use. It comes with a remote controller that features intuitive controls, so even novice pilots can quickly get the hang of it. The remote controller has a range of up to 800m, so you can fly the drone to great heights and distances.
One of the most impressive aspects of the Bwine F7 Drone is its compact design. It is incredibly easy to carry around, thanks to its foldable arms and lightweight build. You can take it with you anywhere you go, making it perfect for travelling, hiking, camping, or any other outdoor activity that calls for a versatile drone.
The Bwine F7 Drone has a maximum flight time of 25 minutes, which is quite impressive for a drone of this size. It comes with a powerful 2500mAh battery that can be charged using a USB cable. This means you can charge it on the go, and never have to worry about running out of battery life while you're out in the field.
In terms of safety features, the Bwine F7 Drone comes with an array of advanced features that make it one of the safest drones on the market. For instance, it has a built-in obstacle avoidance system that helps prevent collisions with other objects. It also has a return-to-home feature that automatically brings the drone back to its original position if it loses connection with the remote controller.
Overall, the Bwine F7 Drone with 4K Camera and Night Version is a great investment for anyone who's looking for a versatile, durable, and high-performing drone. With its advanced features, easy-to-use controls, and compact design, this drone is perfect for capturing stunning aerial photos and videos. Whether you're a professional photographer or an amateur pilot, the Bwine F7 Drone is sure to deliver an amazing experience every time you take it out for a spin.
Get The latest news and updates!
I hope you are enjoying your visit to Joy Drones. I'll send you updates whenever something new is up loaded to my website. You'll receive emails about new products and product reviews as they are added to joydrones.com.